Franklin D. Gilliam, Jr., Ph.D.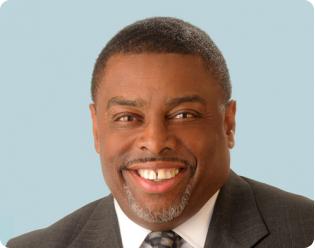 Dean, Luskin School of Public Affairs; Professor of Public Policy & Political Science, UCLA
Franklin D. Gilliam, Jr. was appointed dean of the UCLA Luskin School of Public Affairs in September 2008. He is a longtime UCLA professor of public policy and political science. His research focuses on strategic communications, public policy; electoral politics, and racial and ethnic politics.
As dean of the Luskin School, Dr. Gilliam raised a $50 million naming gift, and now leads the school's charge to redefine its critical advantage and transform its scholarly and practical influence with innovation and impact.
In October 2011, Dean Gilliam launched UCLA Luskin's strategic planning process with the active participation of faculty, administrators, alumni, students, and community partners who developed cross-School themes and outcomes. The School's planning project has focused on identifying society's most pressing problems, developing new opportunities for UCLA Luskin to address them, and creating the knowledge base, tools, and initiatives required for a strengthened leadership role and contributions for the next 20 years and beyond.
Prior to his appointment as dean, Dr. Gilliam served as the first-ever associate vice chancellor of community partnerships in the University of California system from 2002 to 2008. As vice chancellor, he championed UCLA's civic engagement by supporting engaged scholarship and community collaborations to improve the quality of life in Los Angeles.
Since becoming dean, Dr. Gilliam has launched new campaigns to elevate the School of Public Affairs' mission of public service, which comprises graduate programs in public policy, social welfare, and urban planning; an interdisciplinary undergraduate minor (one of UCLA's most popular) in public affairs; and active research centers, including the Lewis Center for Regional Policy Studies, the Institute for Transportation Studies, the Center for Policy Research on Aging, and the new Luskin Center for Innovation.
Under his leadership, the school has begun major initiatives to spotlight and disseminate the research of faculty and students on pressing issues such as immigration, drug policy, prison reform, low-income families and youth, health care financing, transportation and the environment, national security, and economic development.
Twice nominated for UCLA's Luckman Distinguished Teaching Award, Dean Gilliam has also taught at the University of Wisconsin-Madison, Grinnell College, and the University of Dar Es Salaam, Tanzania, and was a visiting scholar at Brandeis University. In addition, he taught with former Vice President Al Gore at Columbia University, Fisk University, and Middle Tennessee State University. Dr. Gilliam received his B.A. from Drake University, and his M.A. and Ph.D. in political science from the University of Iowa.