Advancing the Policy Dialogue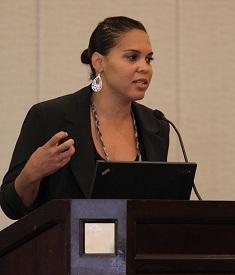 To end domestic violence in California, California must have a strong voice — and a unified effort — to advance dialogue in the policy arena.
The Foundation supports the California Partnership to End Domestic Violence (CPEDV), the statewide membership coalition of domestic violence service providers. Playing a lead policy and advocacy role, CPEDV is strengthening the collective voice on domestic violence issues, while also advancing legislation that secures continued public funding for services. And as the state's key membership organization, CPEDV is central to BSAV field-building efforts and serves as a strategic advisor and collaborator on our Strong Field Project.
The Foundation also participates in state and national convenings, where military decision makers engage, to ensure that the prevention of family violence is on the policy agenda. In January 2010, BSAV staff participated in "America Joins Forces with Military Families," a gathering of 40 national military leaders supported in part by a Foundation grant to Blue Star Families. This convening produced a set of policy recommendations presented to the White House and the Office of the Vice President to inform military family policy and services.
To further support the public and policy dialogue, in 2012 the Foundation funded a landmark study of public opinion and understanding of domestic violence. The poll, which surveyed 900 Californians across the state, revealed interesting findings around prevalence, perceptions, and prevention.
What We Do and Don't Fund
The Foundation is not accepting unsolicited requests for support for projects related to advancing the domestic violence policy dialogue.
Visit our What We Fund page for information about Blue Shield of California Foundation's open funding opportunities.