2010 Grantee Perception Report
Dear Colleagues,
Foundations spend a lot of time reviewing grantee organizations and making decisions about what programs to fund. This creates a power dynamic in which foundations rarely get candid feedback from grantees about the foundation's work and interactions. Blue Shield of California Foundation (BSCF) strives to be a foundation that embraces constructive feedback from our grantees. We believe this type of feedback is critical to ensure that we are being the best possible stewards of the resources entrusted to us.
In order to collect anonymous grantee feedback, BSCF has used the Grantee Perception Report® (GPR), administered by The Center for Effective Philanthropy, since 2006. This survey tool provides us feedback on how grantees perceive their relationship with BSCF and how we compare with other foundations. In 2010, we participated in our third GPR and asked grantees to rate us using the GPR survey. Our 2010 performance is compared with our past performance (via previous GPRs) and that of other foundations similar in size and scope to BSCF.
We've reviewed the feedback and now want to publically share what our grantees said about us. Overall, BSCF grantees rated the foundation at or above average on most of the survey dimensions. Below, we have specifically called out three areas of our 2010 Grantee Perception Report - Impact, Interaction, and Communication because they were areas of strength and areas with room for improvement. For the full results please see 2010 BSCF Grantee Perception Report.
We are using this constructive feedback to continue improving the way we work with our grantees. When I joined the foundation last year, I committed to engaging in a dialogue to ensure that we at BSCF are doing all we can to help all Californians have access to accessible, effective, and affordable health care, and to end domestic violence. I encourage you to contact me and share your feedback.
Sincerely,
Peter Long, Ph.D.
President and CEO
---
Impact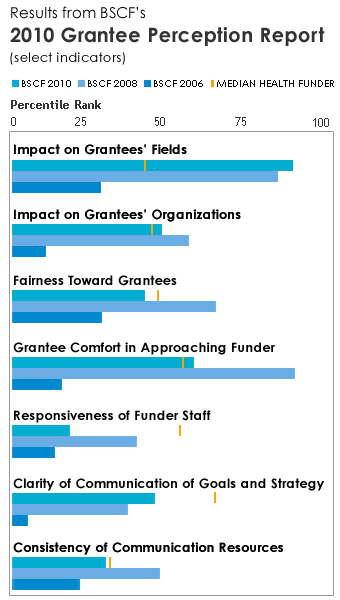 We're making significant impact in our grantees' fields. Through core support funding, Clinic Leadership Institute and the Strong Field Project we're offering resources beyond the grant that contribute to the growth and health of the community clinic and domestic violence service provider community in California.
We've stayed steady in our impact on grantees' organizations and are ahead of the curve in terms of our health-funder peers. With the bulk of our funding in core support, our grant dollars are spread to over 300 agencies throughout the state. It's important to us to make positive contributions to our grantee organizations beyond this core support, and we continue to look for the best ways to provide and enhance this support.
Interaction
Although we are still on par with other health funders, we saw a decrease in our scores of grantees' comfort in approaching us if a problem arises. We welcome grantees contacting us at any point during a grant period and want to work together to achieve the best possible outcomes for our grants. We expect grants to require mid-course adjustments and encourage our grantees to contact us so that we can help organizations navigate a change or challenge.
We also see a decline in responsiveness of our staff to grantees. We are working to identify ways to ensure that we respond to our grantees in a timely and consistent way.
Communication
Our scores in clarity of communication with grantees, about our mission and strategy, have significantly improved over time. At the same time, we are still ranked below our health funder colleagues. We are committed to providing better information about our broader strategy in our communications with grantees and other audiences. We've put a lot of work into defining our strategy in our Blue Shield Against Violence and Health Care and Coverage funding areas and want to be sure we're communicating this with our grantees.
We also hear the consistency of our communication resources has declined and while on par with other health funders, it is something we will work to improve in the year ahead. We are reviewing and aligning all of our communications and are reevaluating how we relay information in our publications, website, email and new media communications.