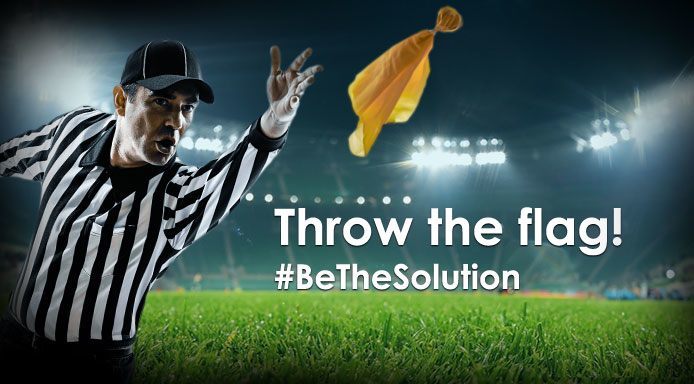 Blue Shield of California Foundation's #BeTheSolution campaign is spreading the message that domestic violence is everyone's issue to tackle. Each of us can play a role in identifying, addressing, and stopping domestic violence.
The resources below can help you find support if you need it, or start a conversation with someone who may be a victim of domestic violence. Everyone can, and should, be part of the solution.
What you can do to help
Speak up! Raise the volume on the issue of domestic violence and help amplify the voice of survivors, like Dr. Debra Bentson, who shares her story - "That night, I didn't tell, but I remember..."
If you see something, say something. Call a shelter, call the police, or tell a faith leader, mentor or counselor. Domestic violence is not a private issue. It's a public epidemic and we all have a responsibility to act.
Be a role model. Just because you're male, doesn't mean you're part of the problem. It also doesn't mean you're not part of the solution. Get involved in, or start your own effort to be a role model for young men in your community.
Be an advocate. Apply to be a promotora or work in your community to connect with women and girls at risk for domestic violence or identify and help survivors in rural and hard-to-reach areas.
Donate. Whether it's your time or your treasure, find a local domestic violence organization and help support survivors and families in your area.
Source: http://www.thehotline.org/is-this-abuse/abuse-defined/#tab-id-4
Know the Signs of an Abusive Relationship
Showing jealousy of your friends and time spent away from them
Discouraging you from seeing friends or family members
Shaming you with put-downs, name-calling or false accusations
Controlling or taking your money or refusing to give you money for expenses
Looking at you or acting in ways that scare you
Controlling who you see, where you go, what you do, or what you wear
Telling you that you can never do anything right
Preventing you from making your own decisions
Telling you that you are a bad parent or threatening to harm or take away your children
Preventing you from working or attending school
Destroying your property or threatening to hurt or kill your pets
Intimidating you with guns, knives or other weapons Pressuring you to have sex when you don't want to or do things sexually you're not comfortable with
Pressuring you to use drugs or alcohol
If you or someone you know is experiencing domestic violence
Where to get help:
National Domestic Violence Hotline at (800) 799-Safe (7233)
Doctors or nurses – healthcare practitioners are now required to screen for domestic violence at no cost, and connect survivors to help and services even if you don't have insurance.
Approach a friend or family member you think may be a victim of domestic violence
Here are some steps to help you, help them:
Find a local domestic violence agency. Call 1-800-799-SAFE (7233) to get a referral to a program near you.
Check out information on creating a safety plan — whether they're choosing to stay, preparing to leave, or have already left.
Let them know that the abuse is not their fault, and they are not alone.
What they need most is someone who will believe and listen. Encourage them to talk to people who can provide help and guidance, whether it's you or someone else –a counselor, doctor, faith leader, parent, etc.
Be non-judgmental. There are many reasons why victims stay in abusive relationships. Do not criticize their decisions or try to guilt them.
If they end the relationship, they may still feel sad and lonely once it is over. They will need your support at that time.
Encourage them to participate in activities outside of the relationship with friends and family.
Remember that you can call the hotline to ask questions, get guidance on how to help, find local support groups, and other information to help them stay safe.
About the domestic violence epidemic
Facts and Figures
Approximately 40% of California women experience physical intimate partner violence in their lifetimes.
Younger women, 18-24 years of age, were significantly more likely to be victims of physical intimate partner violence in the past year than women in other age groups.
Of those experiencing physical intimate partner violence, 75% of victims had children under the age of 18 years at home.
A woman in America is beaten every 9 seconds
At least 3 women in the U.S. are murdered each day by an intimate partner
Domestic violence injures more women every year than the combination of car accidents, muggings, and rapes combined
74% of women murdered by their abuser were attempting to leave, and half of them had an active restraining order
Nearly 8 million of paid workdays are lost every year as a result of domestic violence
4 million women are assaulted and raped by their partner each year
Domestic violence is traumatic, often leading to depression, sleep disorders, anxiety, flashbacks, and post-traumatic stress
Get more information