Blue Shield of California Foundation Commits $6.8 Million to Support Californians Hit Hardest by the COVID-19 Pandemic
Grants address economic hardship, domestic violence, and the need for accurate, accessible information in multiple languages
Blue Shield of California Foundation today announced $6.8 million in grants to help Californians who, due to economic insecurity, heightened risk of domestic violence, or fear due to immigration status, face the greatest health risks in the COVID-19 pandemic.
"The deep inequities exposed and exacerbated in this pandemic are all too familiar," said Debbie I. Chang, MPH, president and CEO of Blue Shield of California Foundation. "We support the immediate actions of state and local governments, such as shelter-in-place orders and physical distancing, but the stark disparities in how Californians experience this crisis urgently demand our attention. This investment will help provide the critical and immediate support that the people most affected need now – especially for those deprived of income and food, low-wage workers, and others facing greater health and safety risks due to distancing – while sustaining the Foundation's ongoing work to prevent poor health and violence in our communities."
The grants will support 14 community foundations addressing specific needs in their communities, provide immediate flexibility for domestic violence shelters, and aid organizations in efforts to meet the needs of low-wage workers and help people get basic necessities. Grants will also support efforts to get accurate information to the most vulnerable communities, including immigrant and non-English-speaking communities.
Included in these grants is also $1M to help launch the California Immigrant Resilience Fund, a new statewide fund to provide direct relief to undocumented immigrants during this crisis – and to encourage lasting solutions that protect health beyond this moment. California is home to more than two million undocumented individuals, with an additional five million Californians in mixed-status households. Many of these families already have retreated from using public benefits due to fear and confusion about the "public charge" rule. As a seed funder, the Foundation recognizes that undocumented immigrants, who are ineligible for federal response assistance, have been hit particularly hard by this crisis. The California Immigrant Resilience Fund will provide direct relief to families to help offset the health and economic risks they face due to COVID-19.
Carolyn Wang Kong, the Foundation's chief program director, said the grants are intended to fill in the gaps for people stretched beyond their limits in the pandemic.
"This pandemic is affecting all Californians, but it's not doing so equally," Wang Kong said. "Many people cannot afford to create 'physical distance' to avoid the virus because their essential work requires them to leave the safety of their homes, while others have lost their jobs, don't have benefits, and struggle to keep a roof over their heads. Additionally, people at risk of domestic violence are uniquely challenged by 'shelter in place' requirements, and many Californians are not getting accurate, science-based information in a language they can understand."
"Home is not a safe place for everyone," said Surina Khan, CEO of the Women's Foundation of California, a grantee that will receive $1.45 million from the Foundation to provide essential support to more than 130 domestic violence shelter organizations across the state. "The organizations we are supporting through our COVID-19 Relief and Resilience Fund are facing far greater need during this pandemic at the same time they are navigating unprecedented challenges. How does a shelter support distance learning for children while schools are closed for the rest of the school year? Or manage the need for PPE or quarantine should someone fall ill from the virus?"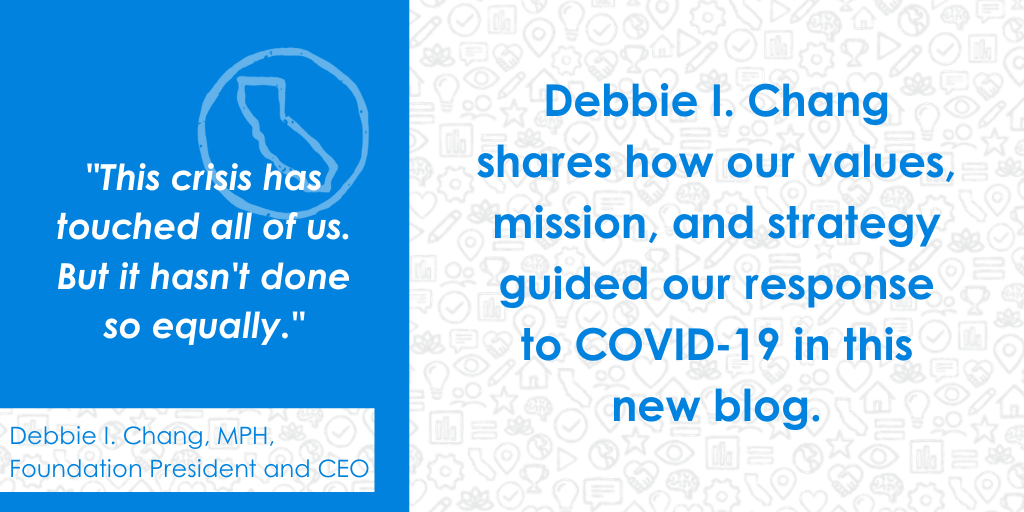 To view details on the full list of grants, see below.