Justice for Vanessa Guillen and for too many others we failed to protect
Vanessa Guillen was a 20-year-old Latina army soldier with a beautiful smile who dreamed of being a hero in the U.S. Military ever since she was a little girl. She was on her way to making her dreams come true, until she disappeared from her base at Fort Hood, Texas at the end of April. While a search was on to find her, it was revealed that before her disappearance Vanessa had confided in her family that she was a victim of sexual harassment, but she was too afraid to report it. Vanessa's body was found two months later.
Authorities connected her murder to another soldier - one who Guillen's family believes was also linked to her harassment. The accused soldier committed suicide just as authorities were closing in on him, leaving so many unanswered questions about the circumstances of Vanessa's death. The family is now pushing for congressional legislation to create an independent agency for soldiers who are victims of sexual harassment and assault. The army also announced, on July 11, an independent investigation of the command climate at the Fort Hood base.
Unfortunately, like many other victims of sexual harassment and gender-based violence, Vanessa did not formally report the abuse she experienced for fear of retaliation and not being believed. Her sister shared that "My sister was too afraid to report the harassment because no one would listen to her." Harassment can quickly lead to physical violence. National statistics paint a grim picture of the state of gender-based violence. Over 1 in 4 women and 1 in 9 men experience intimate partner violence. On an average day, over 20,000 calls are placed to domestic violence hotlines nationwide. These circumstances are only made worse by the COVID-19 shelter-in-place mandates. The impact also extends through generations, with 1 in 15 children exposed to intimate partner violence every year.
Our institutions must have more effective policies and practices in place to protect the safety and wellbeing of their workers, students, and soldiers--including protection against retaliation. We cannot continue to fail our young women, especially women of color and trans women. Vanessa's story of harassment - and, ultimately, her death - is not an isolated incident. Her story is the story of thousands of other women. Building upon the collective power of the #MeToo movement, women are coming forward and sharing their stories using a new hashtag: #IamVanessaGuillen. Vanessa's case came to a heart-breaking end, but we must continue fighting for justice on behalf of all women who have been victims of gender-based violence.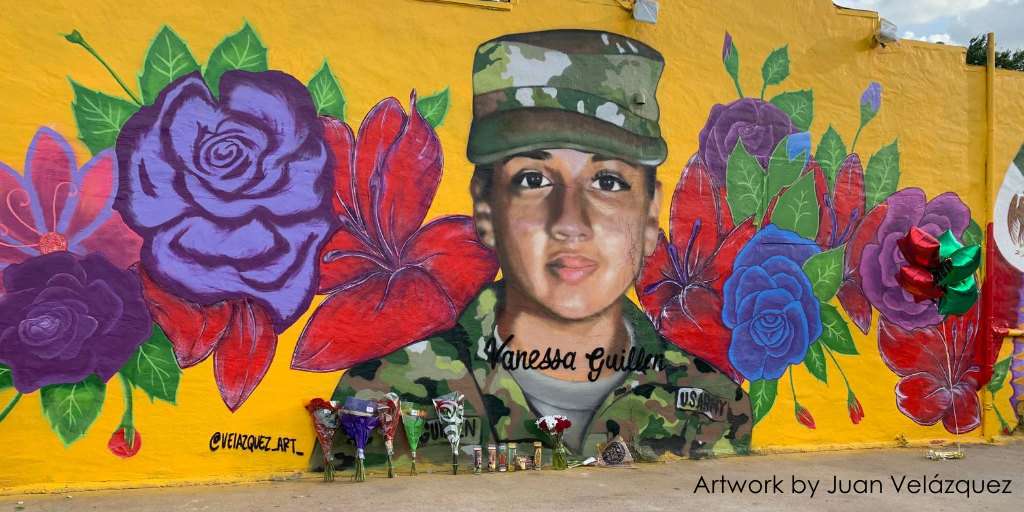 Our mission at the Blue Shield of California Foundation is to build lasting and equitable solutions that make California the healthiest state and end domestic violence. Our Breaking the Cycle initiative aims to support survivors and prevent domestic violence by addressing its root causes. Our partners include a diverse set of nonprofits, public agencies, and foundations including the California Coalition Against Sexual Assault, the California Partnership to End Domestic Violence, and the Women's Foundation California. We know that this issue cannot be solved alone. It requires collaboration among multiple systems and sectors to prevent and end domestic and sexual violence. This includes coming together to drive institutional changes that encourage safety and reporting of sexual harassment and assault while discouraging retaliation. It also requires culture change to achieve gender justice and equity. For example, the Culture Change Fund, by the Women's Foundation California, aims to create broad public support for a new way of thinking that centers gender, racial, and economic justice at the heart of the solutions to systemic problems.
Vanessa's tragic story points to the faults in our current systems and demands change. It also invites philanthropy to step up and play a role in addressing the root causes of gender-based violence and lead the way towards a more just and equitable future.
 What can you do to help? Continue to share Vanessa's story using #JusticeforVanessaGuillen, sign petitions, support her sister's GoFundMe page, and contribute to culture change by talking about gender-based violence and encouraging others to speak up. Most importantly, be an ally to those around you. Reach out to that friend who may be going through some hard times; you never know the difference you could make.
I admire the tenacity and fearlessness of both Vanessa's mother and sister who are bringing her story to the forefront of public and political conversations and continuing to advocate for her. Vanessa's harassment story could be the story of your cousin, your sister, your co-worker. She certainly could have been my primita. I pray that Vanessa's family gets the justice and accountability they seek, and that systematic shifts occur so that gender-based violence is no longer an acceptable norm - not in the workplace, not at home, not anywhere. Let's stand up for Vanessa and all survivors of domestic and sexual violence. We will keep fighting for you, Vanessa!
Written in honor of Vanessa Guillen and the many other victims of abuse and assault.